The New 2024 Chevrolet Blazer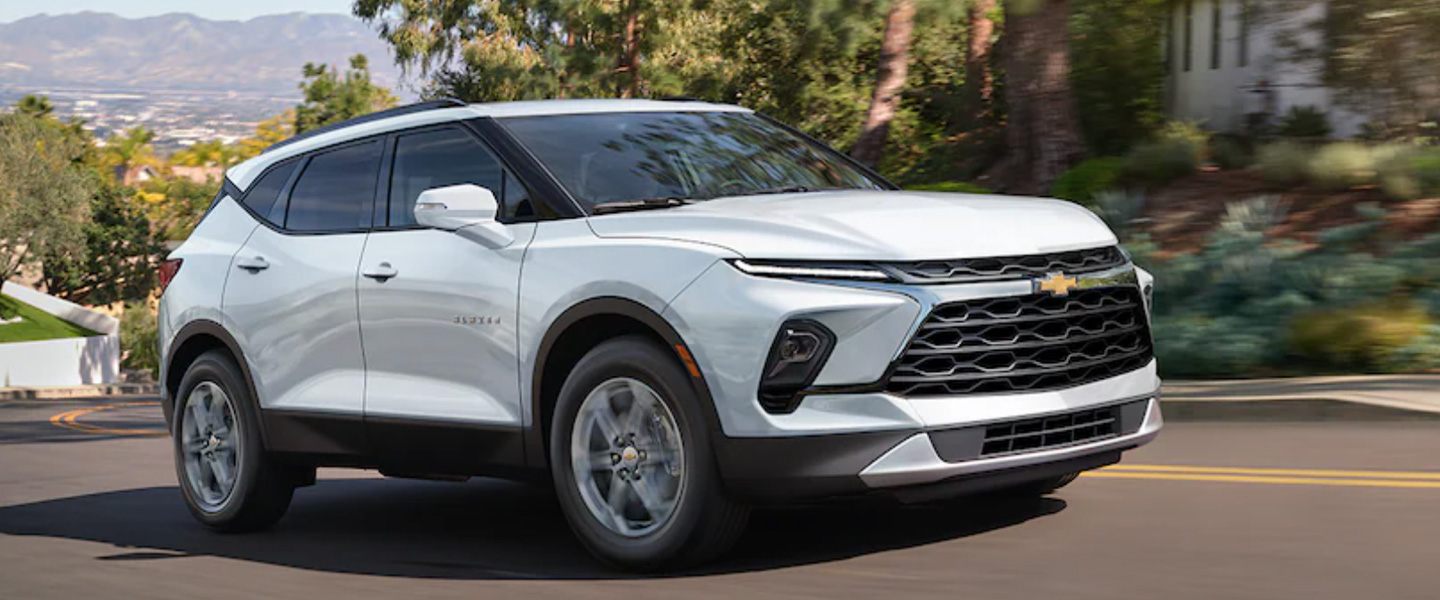 Navigating the bustling landscape of mid-size SUVs just got exhilarating with the unveiling of the 2024 Chevrolet Blazer. This masterpiece balances sporty aesthetics with responsive handling, all wrapped in an aggressively stylish exterior. Inside, it offers spaciousness, with two inviting rows and ample cargo space.

Tech enthusiasts will appreciate the 10.2-inch touchscreen that seamlessly integrates with Apple CarPlay and Android Auto. Under the hood, the turbocharged four-cylinder impresses, with an option for those craving the powerful purr of a V-6.

And for those around Ardmore, the ultimate driving experience awaits at Patriot Chevrolet Buick GMC. We are a Chevy dealer in Ardmore, OK, and our team will help you decide the best trim for your needs. But before you schedule a test drive with us, read on to learn why the 2024 Chevrolet Blazer is worth every penny.
Unleashing the Power: The 2024 Chevrolet Blazer Performance
The 2024 Chevrolet Blazer isn't just another SUV; it's a testament to power and engineering precision. At the heart of its performance are two potent engines, each crafted to deliver an exhilarating performance tailored to the driver's preference. Here's an overview of the engines:
Efficiency Meets Power: 2.0L Turbocharged Engine
For those seeking a perfect blend of power and efficiency, the standard turbocharged 2.0-liter four-cylinder engine strikes an impeccable balance. It pumps out a commendable 228 horsepower and an impressive 258 lb.-ft. of torque. This ensures swift acceleration, making city drives and highway overtaking equally effortless.
The V6 Beast: Raw Power and Utility
Should your heart yearn for raw, undiluted power, the optional 3.6-liter V-6 answers the call. With its 308 horsepower and 270 lb.-ft. of torque, driving becomes an immersive experience.

Beyond sheer power, its utility shines with up to 4500 lbs. of trailering capability when properly equipped. Available in both FWD and AWD, it transforms the Blazer into a multitasking marvel, ready for any adventure or task.
Transmission and Handling: Refined and Responsive
At the intersection of these engines lies the seamless nine-speed automatic transmission, ensuring every drive feels refined yet responsive. Whether you opt for the nimbleness of front-wheel drive or the traction-rich all-wheel drive, the Blazer promises precision in handling.
Step Inside: The 2024 Blazer Interior Highlights
The 2024 Chevrolet Blazer's interior is a masterclass in thoughtful design and advanced technology integration. Every feature has been curated with the modern traveler in mind, ensuring not just a drive but an experience. The moment you slide into the Blazer, there's an immediate sense of being in a space that champions both functionality and luxury.

From keeping your devices charged to immersing you in pristine sound quality, the Blazer has left no stone unturned. Your comfort is uncompromised, with adjustable features ensuring a personalized seating experience. Moreover, the emphasis on connectivity ensures you're always in touch, even on the move.

The Blazer doesn't just accommodate; it anticipates. It's evident in the attention to detail and the seamless integration of each feature. Whether you're embarking on a long journey or navigating city streets, the Blazer's interior promises a journey of comfort, entertainment, and sophistication.

Notable Interior Highlights
Integrated power solutions: With a 120-volt power outlet in select trims and dedicated USB ports, your devices stay powered and within reach.
Audio excellence: The 6-speaker audio system elevates every ride, transforming it into a rich auditory experience. The active noise cancellation feature in the Blazer ensures your journeys are serene by shielding you from external disturbances and ensuring peace and quiet
Unmatched comfort: From 2-way adjustable head restraints to dual-zone automatic climate control and heated front seats, every aspect of your comfort has been considered.
Connectivity and control: The 10.2" HD color touchscreen is the centerpiece, complemented by Wi-Fi hotspot capabilities and Bluetooth pairing, ensuring your world is just a touch away.
Elegance at every step: The Blazer's floors boast deluxe carpeted mats, adding a refined touch to your journeys.
Drive with Confidence: The 2024 Blazer Safety Features
The 2024 Chevrolet Blazer stands out as a beacon of automotive safety. It seamlessly integrates state-of-the-art technology with a steadfast dedication to the well-being of every passenger and driver. This commitment shines through in its notable accomplishment: a five-star overall safety rating from the NHTSA.

At its foundation, the 2024 Blazer is fortified by the Chevy Safety Assist—a suite of six specialized safety features designed to offer peace of mind on every journey. Understanding the unpredictable nature of roads, the Blazer incorporates systems to detect potential hazards, be they vehicles or pedestrians.

The Blazer's proactive systems are keenly attuned to foresee frontal threats, taking automatic action to curb potential accidents. In bustling urban settings, it remains especially vigilant, ensuring the safety of pedestrians with its sharp sensors. Furthermore, the Blazer has features that help the driver maintain lane discipline and ensure a safe distance from the vehicle ahead, encapsulating Chevrolet's holistic approach to safety.

Furthermore, Chevrolet extends its care to the younger members and newcomers to driving within the family. The inclusion of rear child safety locks ensures that the youngest passengers remain secure. Meanwhile, teen driver technology promotes safe driving habits among teens and offers parents insights into their young driver's behavior behind the wheel.

Notable Safety Features
Collision mitigation: Forward collision alert and automatic emergency braking collaborate to prevent front-end collisions.
Pedestrian safety: The front pedestrian braking system acts promptly to protect pedestrians from potential accidents.
Lane guidance: Lane keep assist with lane departure warning ensures you stay within your lane, offering corrective steering if needed.
Safe distance maintenance: The following distance indicator constantly updates you on the distance from the vehicle ahead.
Intelligent speed control: Adaptive cruise control dynamically adjusts your speed, maintaining a safe distance from other vehicles.
2024 Chevrolet Blazer Trims
The 2024 Chevrolet Blazer is available in four trims, including 2LT, 3LT, RS, and Premier. Here is an overview of each of the 2024 Chevrolet Blazer trims and their standout features:
2024 Chevrolet Blazer 2LT
The 2024 Chevrolet Blazer 2LT emerges as the quintessential midsize SUV, encapsulating both versatility and a daring, athletic posture. Under its hood, it proudly houses a 2.0L Turbocharged 4-cylinder engine with the option of all-wheel drive to handle diverse terrains and weather conditions. The model comes equipped with the commendable Chevy Safety Assist feature.

The safety features include adaptive cruise control and enhanced automatic emergency braking for those who seek additional peace of mind on the roads. Moreover, those prioritizing advanced safety will be pleased to find options such as the rear cross-traffic alert, lane change alert, and side blind zone alert. Adding a touch of convenience and modernity is the available power-programmable liftgate, ensuring ease of access to your cargo space.

Standout Features:
4-way manual front passenger seat: Offers comprehensive adjustability, including forward/backward movement, height adjustment, and a reclining seatback.
Inside rearview manual day/night mirror: The feature allows for easy tilt adjustments to reduce nighttime driving glare.
Heated power outside mirrors: The mirrors ensure clear visibility during colder conditions.
2024 Chevrolet Blazer 3LT
The 2024 Chevrolet Blazer 3LT takes the prowess of the 2LT and amplifies it, enhancing capability options while preserving its predecessor's aesthetic allure and functional virtues. At its core, the 3LT possesses a 2.0L Turbocharged 4-cylinder engine with the flexibility of an available AWD system.

For those pursuing more power and the capability to pull, the 3.6L V6 engine stands as an alternative, available in both FWD and AWD configurations, boasting up to 4500 lbs. of trailering capability. Further enriching the driving experience, this trim also comes equipped with a power-programmable liftgate, adding a touch of modern convenience.

Standout Features:
Arctic Package 1 and 2: The package features stunning 20" Chrome aluminum wheels, a distinctive bowtie design on the bodyside fender hash decal, a stylish body-color grille bar, and both front and rear black bowtie emblems.
Driver confidence package:

Ensures peace of mind as it comes standard, inclusive of features like rear cross-traffic alert, lane change alert, and side blind zone alert.

Jet Black, perforated leather-appointed seat trim:

Exudes luxury and comfort with every touch.
2024 Chevrolet Blazer RS
The 2024 Chevrolet Blazer RS epitomizes athletic allure, seamlessly marrying raw power with head-turning design elements. While inheriting standard features from its preceding trims, the RS raises the bar with its dominant 3.6L V6 engine. This engine, coupled with the available Advanced Twin-Clutch AWD, promises unparalleled performance and a robust trailering capability of up to 4500 lbs.

The RS's exterior commands attention, showcasing bold black accents, including the unmistakable black Chevy bowties and an imposing grille. The interior is highlighted by striking red accents and the Jet Black perforated leather seat design featuring nightshift blue accents. Anchoring the RS's commanding presence on the road are its unique 20-inch wheels, with an upgrade option to an even more impressive 21-inch set.

Standout Features:
Dual-outlet exhaust with rectangular bright tips: The feature amplifies the sporty aesthetics with a powerful exhaust note.
Front and rear Black bowtie emblems: An upgrade from the traditional Gold, these emblems in Black, complemented by a Chrome surround, enhance the SUV's modern appeal.
2024 Chevrolet Blazer Premier
The 2024 Chevrolet Blazer Premier represents the pinnacle of Chevrolet's design philosophy, artfully fusing the dynamism of the RS with an elevated sense of sophistication. At the heart of the Premier lies the choice between the efficient 2.0L Turbocharged 4-cylinder engine with available AWD and the powerful 3.6L V6 engine, which, when paired with either FWD or AWD, offers trailering capabilities of up to 4500 lbs.

Visually, the Premier stands apart with its chrome-trimmed horizontal grille, shimmering silver roof rails, and a generous sprinkle of chrome accents adorning the SUV. Inside, passengers are cradled in opulence with perforated leather-appointed seats. Grounding this luxury SUV are its distinct 20-inch wheels, with the option to upgrade to a striking 21-inch set.

Standout Features:
Silver roof-mounted side rails: This feature not only amplifies the vehicle's aesthetics but also provides a functional solution to secure cargo atop the vehicle.
Body-color door handles with chrome accents: This subtle yet effective enhancement adds to the Premier's polished appearance.
Why Choose Patriot Chevrolet Buick GMC for Your 2024 Chevrolet Blazer?
When it's time to purchase your 2024 Chevrolet Blazer, choosing the right dealership is just as critical as choosing the vehicle itself. And at Patriot Chevrolet Buick GMC, we stand head and shoulders above the rest, ensuring you drive home with not just a car, but a complete experience. Here is why you should get your Blazer from our dealership:
Exceptional offers and deals: At Patriot Chevrolet Buick GMC, we frequently roll out special offers, ensuring you get the most value for your money. Whether it's special discounts, seasonal promotions, trade-in deals, or introductory rates on new models, our goal is to make your buying experience satisfying and financially rewarding.

Transparent financing: We offer competitive financing rates and terms on all our vehicles. Our experienced finance team will help you secure the perfect loan or lease quickly without hidden terms. For instance, if you are a teacher, student, or first responder, you can take advantage of our Chevy special offers and get a $500 cash bonus on select Chevrolet vehicles.

Unwavering commitment to satisfaction: Our relationship doesn't end when you drive off our lot. We are committed to ensuring your satisfaction long after your purchase. Whether it's post-sale support, maintenance needs, or simply addressing queries about your new Chevrolet Blazer, our dedicated team is always at your beck and call.
Get Your 2024 Chevrolet Blazer Today
Discover the thrill of the 2024 Chevrolet Blazer by visiting Ardmore Chevrolet Buick GMC today. Our showroom doesn't just host this gem but also various Chevrolet models to match diverse tastes.
With unparalleled expertise in the Chevrolet brand, our team ensures your experience is beyond ordinary. Don't just read about it — live the Chevrolet experience with us. Contact us now, and let's embark on your automotive journey together.